One quarter of 90s British R&B band MN8, Dee Tails began his career in the entertainment industry as a singer touring with Janet Jackson (amongst others), and having MN8's smash hit song "I've got a little something for you" featured on the soundtrack of the 1995 hit feature film, Bad Boys, starring Will Smith and Martin Lawrence.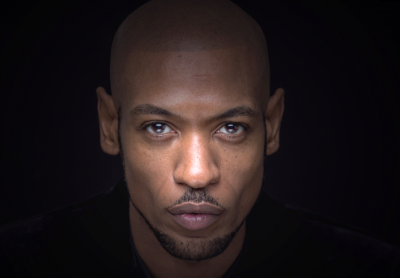 Dee has since gone on to cultivate an incredible acting career on stage, film and television. Some of his credits include the Harbinger on Jekyll & Hyde (TV), The Genie of the Magic Lamp in Aladdin (theatre), a Gotham Police officer in Batman Begins, as well as various other characters in films such as Captain Phillips and more.
But he is perhaps best known for his work in the Disney era Star Wars Universe, having featured in The Force Awakens as Cratinus (a patron of Maz's castle), Rogue One as the droid L-1 (K-Ohn) on Jedda (which, incidentally was originally designed to fulfil the role of K2-S0), The Last Jedi as the Canto Bight resident Slowen Lo (the namesake of the Beastie Boys song) and finally in Solo: A star Wars Story as Quay Tolsite, who was the administrator of the Pyke Syndicate's operations on Kessel.
Dee Tails is a first time signer and this is a very rare opportunity to add him to your collection. Dee's future work commitments and busy schedule means he probably will not be attending any conventions anytime soon, which makes this private signing even more special.
Dee will be supporting 'Support Dogs For Autism, For Epilepsy, For Disability' and you can find info on the charity here: https://www.supportdogs.org.uk/what-we-do
A proportion of autograph sales determined by Dee Tails will be donated to his chosen charity. On top you can donate additional amounts, just use the drop down menu 'Additional Donation to Charity' while shopping.

PrivateSignings.org are extremely proud to announce Dee Tails as our second guest signer